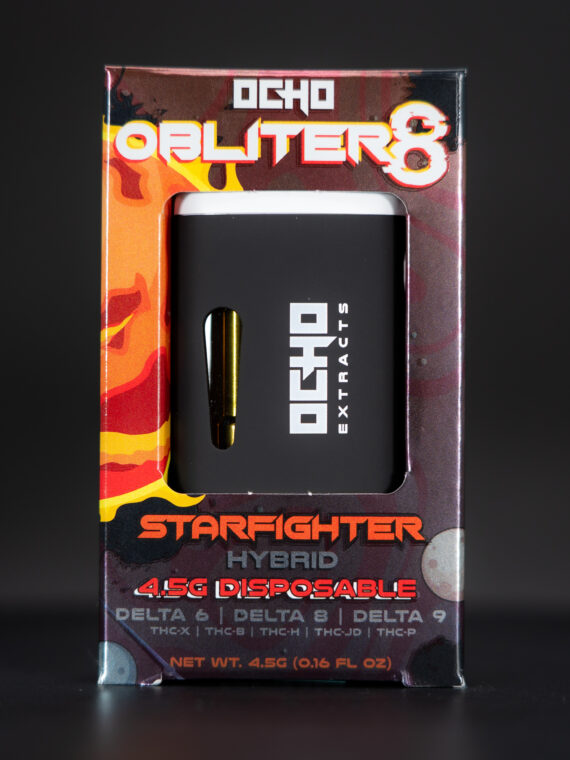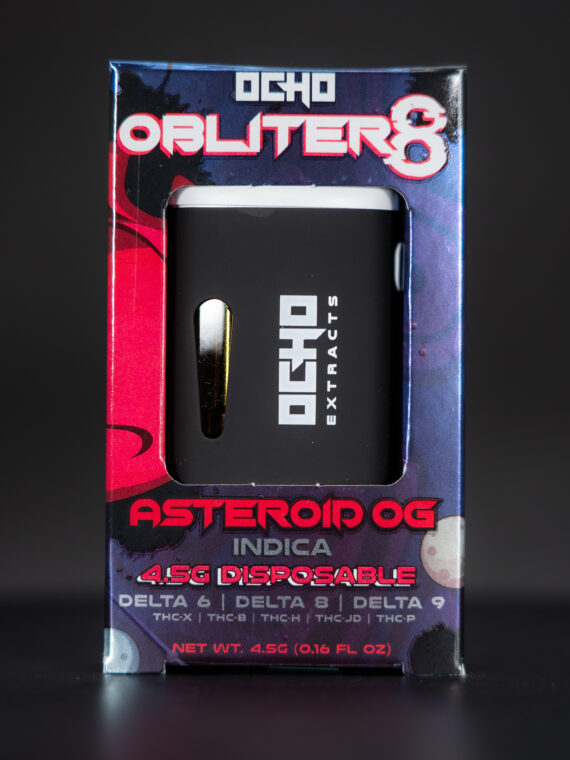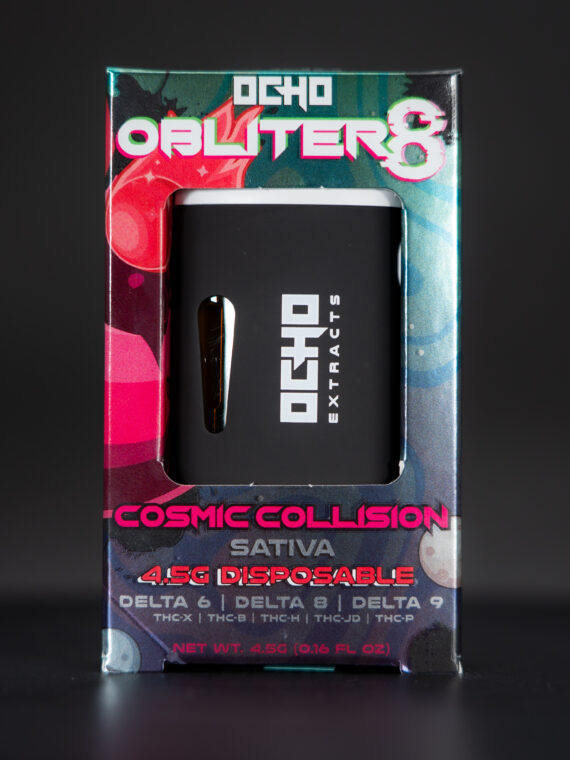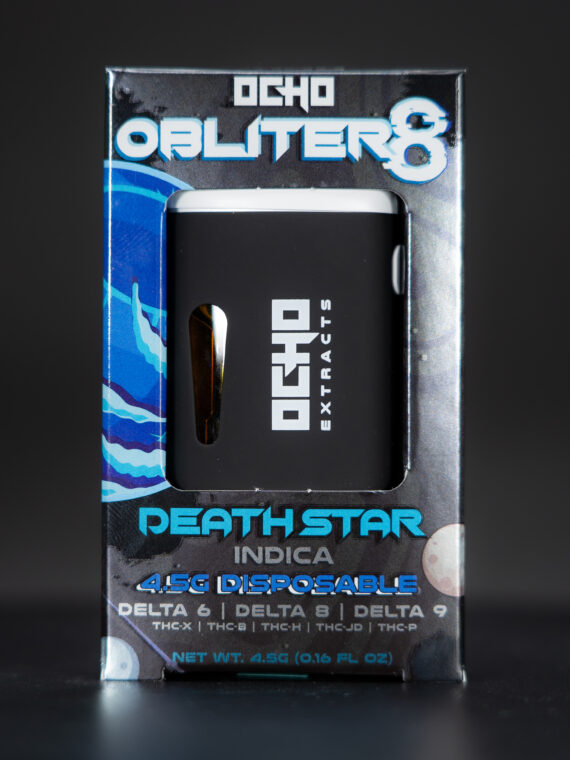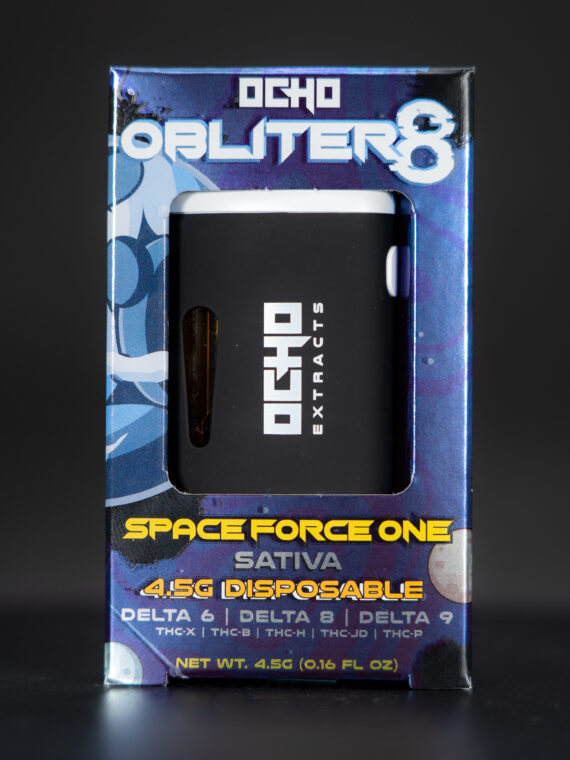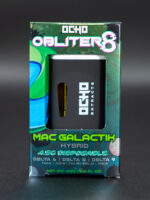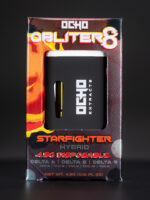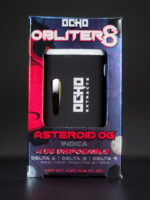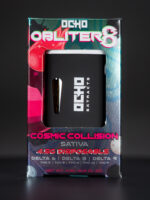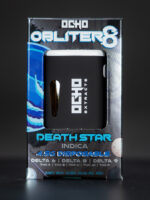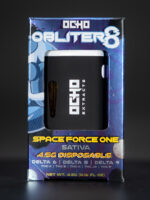 Ocho Extracts – Obliter8 – 4.5g Disposable
—
or subscribe and save up to
25%
4.5-grams Per Disposable
Enriched with Strain Specific Terpenes
Live Resin Infused For Maximum Flavor
6 flavors to choose from and 3 different strains – Hybrid, Indica, Sativa
Blend of Delta-6 + Delta-8 + Delta-9 + THC-B + THC-H + THC-JD + THC-P + THC-X
Sold By: Silverback Hemp Co. - All Delta Products - The Higher Standard
Guaranteed safe & secure checkout
Description
Ocho Extracts Obliter8 Disposable | 4.5g
Introducing the Ocho Extracts Obliter8 Disposable, the ultimate way to elevate your vaping experience! Packed with an out-of-this-world blend of Delta 6, Delta 8, Delta 9, THC-X, THC-B, THC-H, THC-JD, and THC-P, this 4.5-gram device is a real game-changer!
Say goodbye to constantly buying new disposables. With the USB Type C rechargeable feature, you can easily power up your Ocho Extracts Obliter8, ready for your next adventure. No more hassles with changing batteries or running out of power when you need it most. Indulge in the perfect blend of 8 different cannabinoids, expertly curated for a well-rounded and enjoyable high. Whether you're looking for relaxation, focus, or creativity, Ocho Extracts Obliter8 delivers it all in one seamless experience.
You can trust that you're getting a premium product that's lab-tested and free from harmful additives. With 6 different options to choose from, you can pick the flavor and effect that matches your mood. From fruity and refreshing to earthy and soothing, there's an Obliter8 Disposable for every taste preference and desired experience. Whether you're at a music festival, on a hiking trail, or just chilling with friends, Ocho Extracts Obliter8 Disposable is the ideal companion. Its sleek and discreet design makes it easy to carry and enjoy anytime, anywhere.
Level up your game with Ocho Extracts Obliter8 Disposable. Embrace the future of vaping with a powerful and flavorful experience in one compact and user-friendly package. With Ocho Extracts Obliter8 Disposable, every puff is a trip to paradise. So don't wait, grab yours now and embrace the cosmic goodness! Ocho Extract products are 2018 farm bill compliant containing less than .3% delta-9 thc.
Ocho Extracts Obliter8 Disposable Strains
Now, let's talk strains! Ocho Extracts has got the cosmic lineup that's sure to please any taste: Asteroid OG for those laid-back Indica lovers, Cosmic Collision to blast off with a Sativa punch, Death Star to take you to another galaxy of relaxation, and Starfighter, a delightful Hybrid blend. And that's not all! This lineup also includes Space Force One for a Sativa adventure and Mac Goliactik, a Hybrid giant that'll leave you floating on cloud nine.
Additional Product Information
4500mg Per Disposable
Made From USA Grown Hemp
USB-C rechargeable (cable not included)
Strain Specific Terpenes
Compliant With 2018 Farm Bill
Additional information
| | |
| --- | --- |
| Weight | N/A |
| STRAIN | Death Star – Indica, Asteroid OG – Indica, Cosmic Collision – Sativa, Space Force One – Sativa, Starfighter – Hybrid, Mac Galactik – Hybrid |
There are no question found.