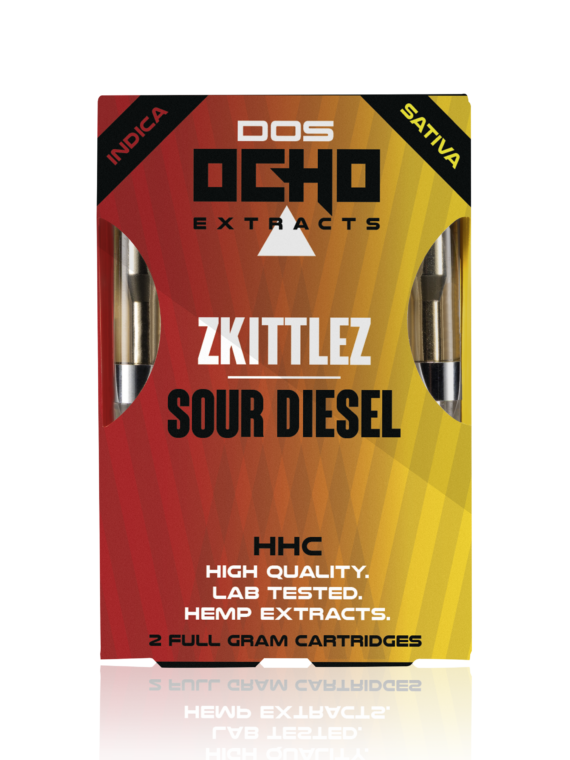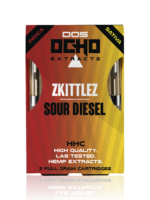 Ocho Extracts – Dos Ocho – Zkittlez & Sour Diesel HHC Dual (1G) Cartridges
—
or subscribe and save up to
25%
Two devices, two strains, endless possibilities.
High-quality distillate for a smooth vaping experience.
Delightful terpene profiles enhance flavors and aromas.
In stock
Sold By: Silverback Hemp Co
Guaranteed safe & secure checkout
Description
Experience the Exquisite Dos Ocho Zkittlez & Sour Diesel HHC Dual Cartridges:
Sour Diesel (SATIVA):
Indulge in the invigorating essence of Sour Diesel, a Sativa-dominant strain renowned for its pungent, diesel-like aroma. Immerse yourself in the herbal taste with an unmistakable lemony aftereffect. This fast-acting strain delivers dreamy and cerebral effects, providing a burst of energy to invigorate your senses.
Zkittlez (INDICA):
Delight in the candy-fruit flavors of Zkittlez, an Indica-dominant hybrid that captures the essence of its namesake. Experience a smooth and multi-faceted journey as this strain unveils its sweet and tropical blend. Let the soothing qualities of Zkittlez embrace you in a tranquil embrace, offering a truly enjoyable experience.
Details:
Cannabinoids:
Discover the remarkable cannabinoid profile of our Zkittlez & Sour Diesel HHC Dual Cartridges, carefully crafted to provide an exceptional vaping experience.
What is HHC?
Explore the innovative world of HHC (Hexahydrocannabinol), a cutting-edge technology utilized in our cartridges to enhance your vaping journey. Experience the benefits of precise dosing and consistent quality, ensuring a reliable and enjoyable session every time.
🧪Full Panel COA📋:
Rest assured, our product has undergone rigorous testing. Our full panel Certificate of Analysis guarantees that it contains less than 0.3% THC, meeting legal requirements and providing peace of mind.
Immerse yourself in the extraordinary flavors and effects of Dos Ocho's Zkittlez & Sour Diesel HHC Dual Cartridges. Elevate your vaping experience with high-quality strains, carefully curated for your enjoyment. Uncover the perfect harmony of taste and potency, and embrace the exceptional journey that Dos Ocho brings.
Additional information
| | |
| --- | --- |
| Weight | 1.657878 oz |
| Product Brand | Ocho Extracts, Ocho Extracts – Dos Ocho |
| Cannabinoid | HHC |
| Product Type | Disposable Products, Vape Products |
| Product Size | 1-Gram, 2-Gram |
There are no question found.