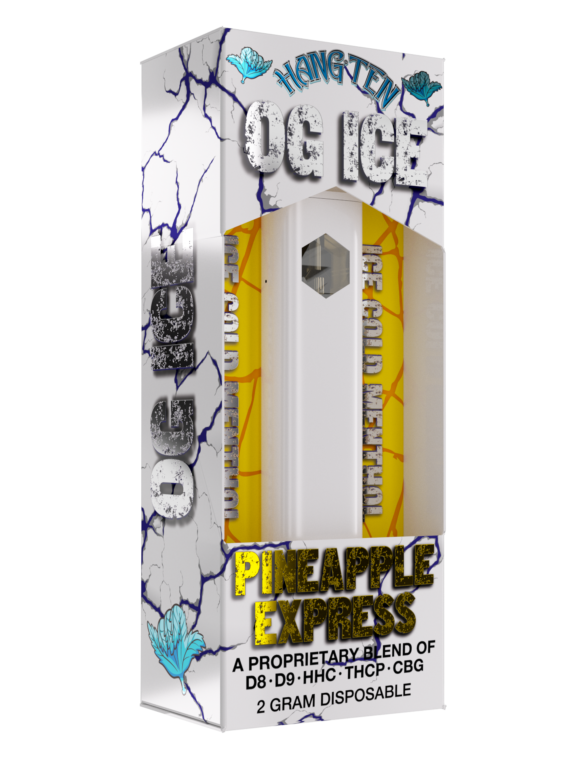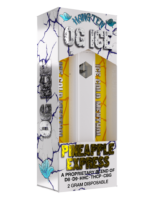 Hang Ten – OG Ice – Pineapple Express Disposable
—
or subscribe and save up to
25%
2-grams Per Disposable
Enriched with Strain Specific Terpenes
Live Resin Infused For Maximum Flavor
3 flavors to choose from and 3 different strains – Hybrid, Indica, Sativa
Proprietary Blend of Delta-8 + Delta-9 + THC-P + CBG
Sold By: Silverback Hemp Co. - All Delta Products - The Higher Standard
Guaranteed safe & secure checkout
Description
Hang Ten – OG Ice – Pineapple Express Disposable
Immerse yourself in the invigorating embrace of Hang Ten's Pineapple Express blend. This expertly crafted vape showcases the renowned strain, celebrated for its balanced properties. With its lush, green buds and tropical aroma, each inhale offers a unique and delightful sensory experience.
The 2g disposable format ensures a convenient supply of this distinctive strain, ideal for moments of tranquility or relief from the demands of the day. Discreet and user-friendly, this option allows you to enjoy the blend's qualities effortlessly.
Hang Ten's dedication to quality shines through every aspect of this product, from cultivation to consumption. The blend's potency and authenticity are consistently maintained, ensuring a reliable experience with every use.
Notably, this strain excels in promoting a sense of relaxation without overpowering effects. This balanced characteristic makes it a versatile choice for various occasions, whether you're unwinding in the evening or seeking a moment of respite during a busy day.
The Hang Ten OG Ice Disposable is designed for simplicity and convenience. With a straightforward inhale, you can revel in the smooth and flavorful vapor of this esteemed strain, without the need for complex equipment or setups.
In essence, this 2g disposable vape, featuring the renowned Pineapple Express blend, offers a harmonious fusion of distinctive flavors in a convenient and accessible form. Elevate your moments of calm with this meticulously presented product by Hang Ten.
Hang Ten OG Ice Disposable Strains:
Additional Product Information:
2000mg Per Disposable
Made From USA Grown Hemp
USB-C rechargeable (cable not included)
Strain Specific Terpenes
Compliant With 2018 Farm Bill
There are no question found.