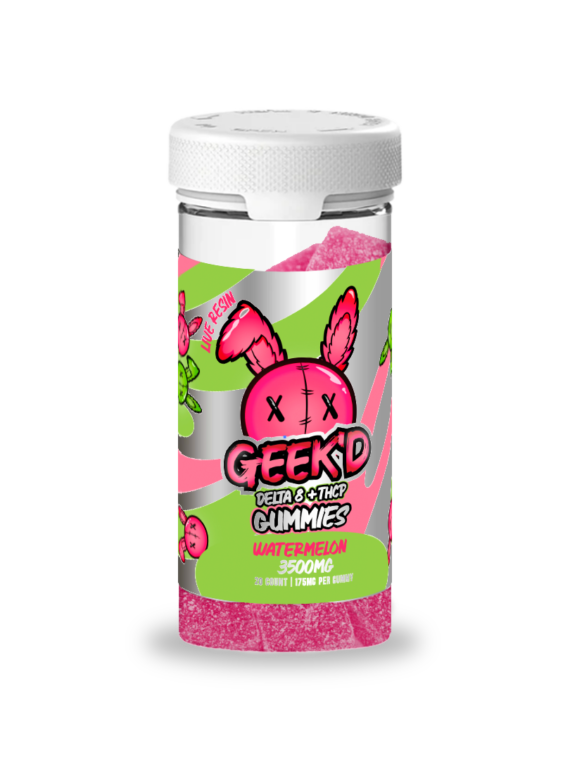 Geek'd Extracts – Delta 8 + THCP – Gummies 3500mg – Watermelon
—
or subscribe and save up to
25%
In stock
Sold By: Silverback Hemp Co
Guaranteed safe & secure checkout
Description
GEEK'D Extracts – Delta 8 + THCP – Gummies 3500mg – Watermelon
Elevate your CBD experience with GEEK'D Extracts' Delta 8 + THCP Gummies in the juicy Watermelon flavor. These vegan-friendly gummies are packed with a whopping 3500mg of potency per jar, providing a unique blend of 175mg Delta-8 THC and THC-P in each gummy. Crafted with precision, each jar is topped with a custom child-proof cap for safety and ease of use.
Key Geek'd Features:
Vegan Ingredients: GEEK'D Extracts takes pride in using exclusively vegan ingredients, ensuring a product that aligns with various dietary preferences.
20 Gummies per Jar: Each jar contains 20 gummies, offering a substantial supply of this potent Delta 8 + THCP blend.
3500mg Per Jar: These gummies are packed with an impressive 3500mg of total potency, making them a powerful addition to your CBD routine.
175mg of Delta-8 THC & THC-P: Experience the combined benefits of Delta-8 THC and THC-P, meticulously dosed at 175mg per gummy for a unique cannabinoid experience.
Custom Child-Proof Cap: Your safety is our priority. Each jar comes with a custom child-proof cap, ensuring secure storage and easy access.
Explore our range of other flavors and potencies:
– Geek'd Extracts – 3500mg Potency (175mg/Gummy)
– Geek'd Extracts – 2500mg Potency (125mg/Gummy)
Experience the extraordinary blend of Delta 8 + THCP in every juicy Watermelon gummy from GEEK'D Extracts. With vegan ingredients, precise dosing, and a child-proof cap for added safety, these gummies are designed for a seamless and potent CBD experience. Choose your flavor and potency level, and embark on a journey towards enhanced well-being and relaxation.
Instructions:
We suggest for first-time users start with 1/2 piece. Allow 120 minutes for full effect before considering another dose. These gummies maintain compliance with the 2018 farm bill act by containing less than .3% Delta-9 THC.
Additional information
| | |
| --- | --- |
| Weight | 5.361647 oz |
| Product Brand | Geek'd Extracts |
| Cannabinoid | Delta-8, Live Resin, THC-P |
| Product Type | Edible Products, Gummy Products, Live Resin Products |
| Product Size | 20-Pieces, 3500mg |
There are no question found.