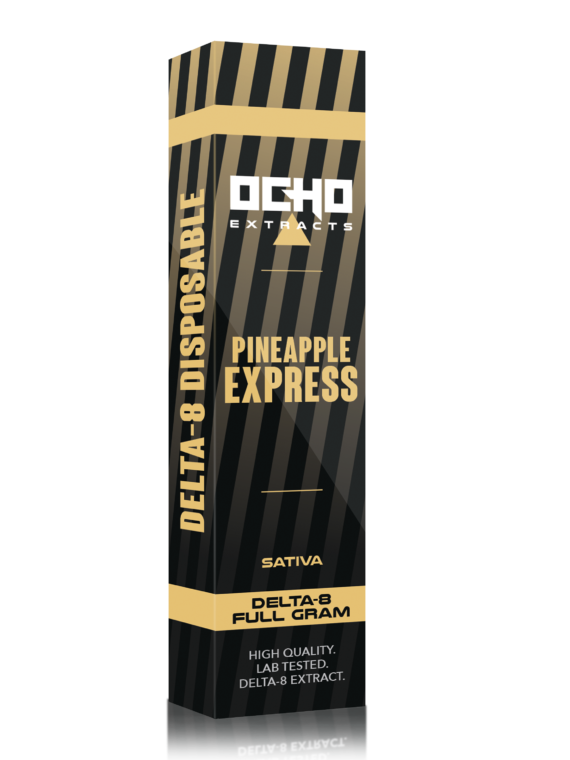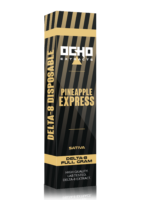 Ocho Extracts – Pineapple Express – 1g Disposable – Sativa
—
or subscribe and save up to
25%
In stock
Sold By: Silverback Hemp Co
Guaranteed safe & secure checkout
Description
Ocho Extracts – Pineapple Express – 1g Disposable – Sativa
Embark on a journey of uplifting effects with Ocho Extracts' Pineapple Express 1g Disposable, a convenient and discreet way to enjoy the invigorating effects of this tropical Sativa strain. Infused with pure, high-quality Delta 8 Distillate, this premium disposable ensures a consistent and enjoyable experience.
Key Features:
1 Gram Per Disposable: Each unit contains a generous 1 gram of Master Kush, providing ample supply for a leisurely experience.
Enriched with Strain Specific Terpenes: Experience a full spectrum of flavors and benefits with the infusion of strain-specific terpenes, enhancing the overall experience.
8 Flavors and 2 Different Strains: Choose from a selection of 8 delightful flavors, each available in either Indica or Sativa strains, allowing you to tailor your experience to your preferences.
Pure High-Quality Delta 8 Distillate: Rest assured, the distillate used is of the highest quality, delivering a potent and consistent experience.
Explore our range of other strains:
Lemon Cake – Sativa – Elevate your mood with the invigorating effects of Lemon Cake, a delightful Sativa strain.
Ice Cream Gelato – Indica – Indulge in the creamy and calming effects of Ice Cream Gelato, a rich Indica strain.
Zkittlez – Indica – Experience the fruity and tranquil effects of Zkittlez, a beloved Indica strain.
White Runtz – Indica – Enjoy the sweet and relaxing effects of White Runtz, a popular Indica strain.
Strawberry Cough – Sativa – Invigorate your senses with the energizing effects of Strawberry Cough, a flavorful Sativa strain.
Pineapple Express – Sativa – Ride the wave of uplifting effects with Pineapple Express, a tropical Sativa strain.
Sugar Cookies – Indica – Unwind and relax with the soothing effects of Sugar Cookies, a comforting Indica strain.
Master Kush – Indica – Experience deep relaxation with the Master Kush Indica strain, ideal for a tranquil Delta experience.
EXPLORE ALL OCHO EXTRACTS PRODUCTS
Experience the premium invigorating effects offered by Ocho Extracts' Pineapple Express 1g Disposable. With precise dosing, unique cannabinoid infusion, and a diverse blend of strains and flavors, this disposable is designed to provide a superior and tailored experience. Choose your preferred flavor and strain, and embark on a journey towards enhanced vitality and well-being.
Additional information
| | |
| --- | --- |
| Weight | 1.657878 oz |
| Product Brand | Ocho Extracts |
| Cannabinoid | Delta-8 |
| Product Type | Disposable Products, Vape Products |
| Product Size | 1-Gram |
There are no question found.