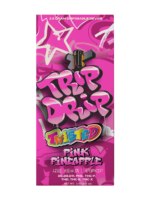 Trip Drip – Twisted – Pink Pineapple – Sativa – 3.5-Gram Disposable
—
or subscribe and save up to
25%
In stock
Sold By: Silverback Hemp Co
Guaranteed safe & secure checkout
Description
Trip Drip Twisted Disposable Vape | 3.5g – Pink Pineapple – Sativa
Elevate your vaping experience with the Twisted Disposable Vape featuring the invigorating Pink Pineapple Sativa strain. This cutting-edge device offers a seamless and convenient vaping experience, complete with a 3.5g cartridge for extended use. Engineered for ease of use, it caters to both beginners and experienced vape enthusiasts alike.
Twisted Disposable Key Features:
3.5g Capacity: Enjoy 3.5 grams of the finest Pink Pineapple Sativa strain for an exhilarating experience.
Preheat Function: The Twisted Disposable Vape includes a preheat option, ensuring smooth and consistent draws for uninterrupted enjoyment.
Rechargeable: Crafted with sustainability in mind, this vape is rechargeable, providing long-lasting use without the need for frequent replacements.
Twisted Goodness: Experience the unique sensation of Twisted Good, a fusion of ergonomic design and precise engineering that sets this vape apart.
Explore a range of exceptional strains:
Experience the Twisted Disposable Vape's exceptional performance, tailored for an unmatched Pink Pineapple Sativa experience. This device seamlessly combines style, convenience, and top-notch quality, making it the perfect choice for cannabis enthusiasts seeking a high-quality vaping solution. Enjoy the convenience of preheating, rechargeability, and a generous 3.5g cartridge, all within the sleek and ergonomic design of the Twisted Disposable Vape. Select your strain and embark on a journey into the world of premium vaping.
Additional information
| | |
| --- | --- |
| Weight | 1.657878 oz |
| Product Brand | Trip Drip, Trip Drip – Twisted |
| Cannabinoid | Delta-11, Delta-8, Delta-9, Live Resin, PHC, THC-B, THC-P, THC-X, THD |
| Product Type | Disposable Products, Live Resin Products, Vape Products |
| Product Size | 3.5-Gram |
There are no question found.