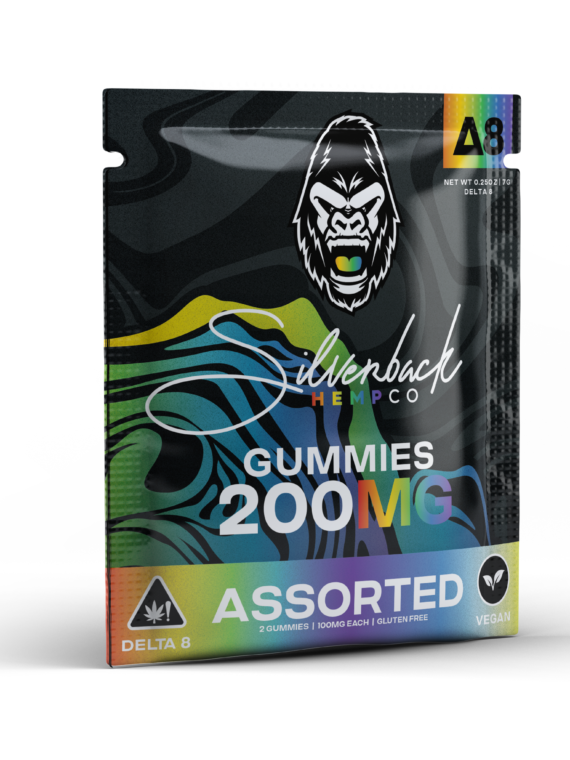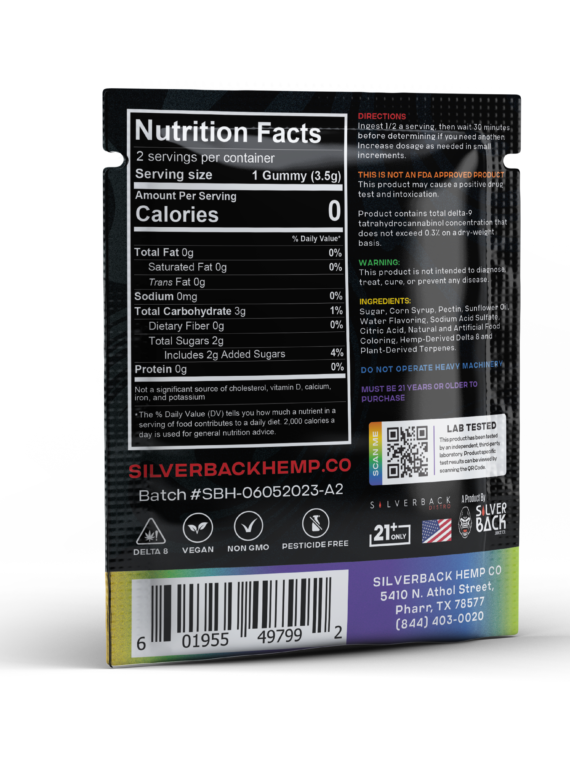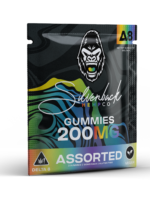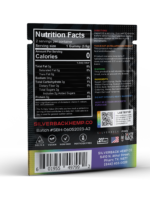 Silverback Hemp Co – Delta 8 – Assorted Flavors 2-Pack (200mg Total)
—
or subscribe and save up to
25%
Indulge in the Silverback Hemp Co Delta 8 Dream Drops 2-Pack, featuring two packs of assorted-flavored gummies.
Each 2-Pack contains a total of 200mg of premium Delta 8 THC for a blissful and relaxing experience.
Enjoy the surprise of various mouthwatering flavors with every bite, adding excitement to your journey.
Elevate your senses and unwind with expertly dosed and irresistibly delicious Delta 8 gummies by Silverback Hemp Co.
Sold By: Silverback Hemp Co. - All Delta Products - The Higher Standard
Guaranteed safe & secure checkout
Description
Silverback Hemp Co – Delta 8 – Assorted Flavors 2-Pack (200mg Total)
Engage with the captivating allure of Silverback Hemp Co's Delta 8 Dream Drops 2-Pack—an exquisite offering that introduces a dynamic duo of carefully curated assorted-flavored gummies. Within each gummy, discover a precisely measured 200mg of premium Delta 8 THC, drawing you into an exhilarating and exquisite experience.
Embark on a journey through a spectrum of delightful flavors as you navigate the assortment—a journey that unfolds with every indulgent bite. Each gummy promises a distinct adventure, a unique amalgamation of taste and relaxation crafted exclusively for your enjoyment.
Elevate your senses with Silverback Hemp Co's Delta 8 gummies, where the fusion of expert formulation and irresistible taste composes an orchestra of flavors that resonate harmoniously with your palate. These gummies extend beyond mere confections; they're an invitation to moments of enjoyment, a pleasurable experience whether winding down after a long day or seeking a delightful treat.
The Delta 8 Dream Drops 2-Pack by Silverback Hemp Co exemplifies meticulous craftsmanship and indulgence, encapsulating the essence of premium quality and satisfaction. With each gummy, you're transported into a world of meticulously balanced doses and delectable flavors, curated to enrich your moments. Elevate your senses, explore depths of flavor, and discover the epitome of relaxation and enjoyment in every bite.
Experience a symphony of taste and potency through the Delta 8 Dream Drops 2-Pack by Silverback Hemp Co. It transcends mere consumption; it's an experience, a journey, and a testament to the art of crafting delight.
.
Assorted Delta 8 – Flavors:
100% GLUTEN FREE & VEGAN
Ingredients
Sugar, Corn Syrup, Pectin, Sunflower Oil, Water, Flavoring, Sodium Citrate, Sodium Acid Sulfate, Citric Acid, Natural, and Artificial food coloring, hemp-derived delta-8 THC, and plant-derived terpenes.
There are no question found.